Do you want to lose your extra pounds and slim your waist? In this article, you will find a 20-minute workout which can help you achieve your goals. This workout is made by fitness trainers who collected the best exercises which build our muscles and provide weight loss effects. If you want to see the results, you should follow this workout plan for one month and then make one week pause. After that, continue the exercises until you get the wanted results.
Here are the exercises the 20-minute workout contains:
1. Side Plank
Start this exercise standing with your feet shoulder-width apart. Then do a regular squat and finish it jumping up in the air. When you land, lower your body back into a squat position. Repeat it ten times.
2. Russian Twist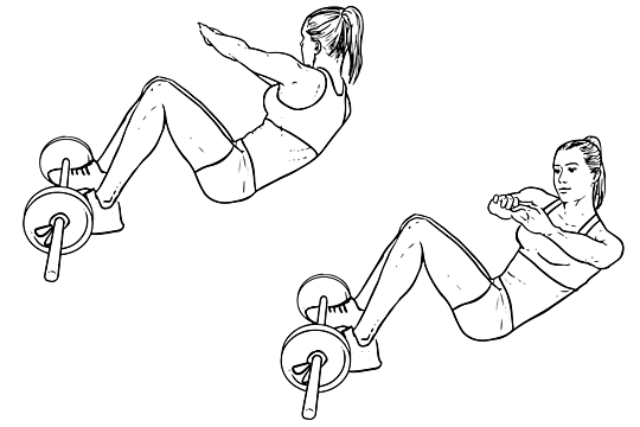 You need to lie down on the floor. Then elevate your body with arms extended in front of you. Twist your torso to the right side until your arms are parallel to the floor. Hold it for a second and move back. Repeat it on the opposite side.
3. Plank Knee to Elbow
Start the exercises lying face down on the ground with extended legs. Then you should push yourself up into the plank position. Try to maintain a tight core and flat back, bringing your left knee to your right elbow. Make a small pause and then return to the starting position. Repeat it ten times with both sides.
4. Crunches Knee to Elbow
You should lie on your back with hands behind your head and bent knees. With elbows flared lift your shoulder blades off the floor and hold the position. Then twist your upper body, so you bring the elbow to the opposite knee, extending your other leg. Hold it and then bring your body back to the starting position. Repeat it ten times.
5. Push-Ups
Start on your hands and knees with your hands underneath your shoulders. Then come onto the balls of your feet and the heels of your hands, and then walk the feet back until you are in the plank position. Bend your elbows, lowering your body down. Then slowly push yourself back up to the starting position.
6. Glute Bridge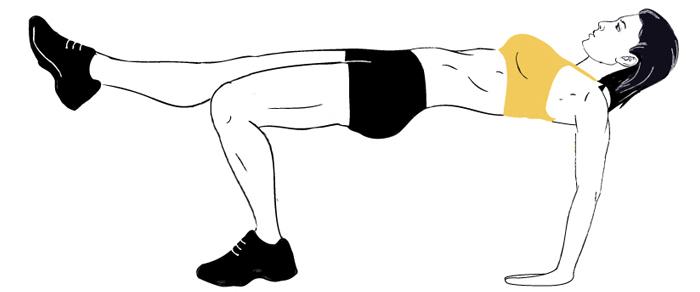 Start lying on the back with your hands by your sides and your knees bend. Your feet should be shoulder-width apart. Then lift your hips off the ground keeping your back straight. Hold this pose for few seconds and then slowly bring your hips back to the starting position.